It's clear that mental ill health is a complex issue affecting many people in the UK; and we believe prevention is critical for improving mental health outcomes. We see a role for social impact investment in supporting innovative solutions to scale – while listening to lived experience and embedding rigorous research practice.
A significant number of people in the UK experience mental ill health and the level of unmet need for mental health services is growing. The need is particularly acute among disadvantaged groups, who experience lower treatment rates and poorer outcomes.
Historically, mental health policy and funding has focused on reactive care at the expense of prevention, despite the obvious benefits. MQ found that a tiny proportion – less than 4% – of research funding has focused on prevention.
However, in recent years we've seen promising developments in building awareness and tackling stigma – and there are signs of increasing energy around early intervention and prevention. Institutions such as the Mental Health Foundation have put prevention at the heart of their work. And the Government has emphasised the need to shift to preventative models in mental health, such as in recent green paper on Prevention in the 2020s.
We're also seeing an increasing array of innovations that bring a preventative focus. These include digital and in-person interventions such as self-management, peer-to-peer support networks, e-therapy, and integrated care with mental health practitioners.
However, there are barriers to the adoption and scaling of innovative solutions. Notably, there are concerns around the level of rigorous research behind some innovative models. This isn't easy to tackle as the pathways to building this evidence base are often long, complex and expensive.
We believe there's a role for social impact investment in catalysing preventative solutions and enabling better integration between the world of research and the world of social innovation.


Bringing together researchers and social innovators
To learn more about these barriers, and the ways to overcome them, we partnered with The Wellcome Trust, BGV, and Zinc on a 'Research to Venture Mental Health Programme'.
The programme was designed to enable collaboration across the worlds of research, social impact and early stage start-up development – with the shared goal of ensuring mental health products and services are both effective and aligned with the real needs of individuals.
To achieve this, twelve start-ups aiming to improve people's mental health were provided with research grants between £5,000 and £40,000. Over the course of a year, this funding was used to support user-centred research, embed existing evidence, and generate new insights – to better enable the start-ups to build the evidence they need to secure contracts, grant funding, and investment.
The organisations on the programme were working to empower people to better manage their mental health. Across the group, they were tackling issues such as perinatal and childhood mental health, workplace solutions for employee wellbeing, and peer support platforms around mindful drinking and youth self-harm prevention.
The full report provides further detail, and outlines seven insights and eight recommendations for key stakeholders across the mental health ecosystem. All of the insights are important, but I want to highlight three in particular:
Funding to engage researchers and embed rigorous research practice in the critical early stages of start-up development can play a valuable role in shaping products and services; however, there is a gap for funding that enables this engagement and a gap for unrestricted funding or investment that enables start-ups to act effectively on the insights they generate.
The usual approaches to generating evidence typically aren't a good fit for early stage innovations. To be most effective, we need to look beyond Randomised Controlled Trials in the first instance and instead explore ways to involve research practice earlier, test quickly, and encourage adaptive learning based on emerging evidence.
User engagement and testing, particularly with disadvantaged groups, is both critical and challenging. Start-ups on the programme trialled new approaches including pilots and user testing embedded in digital products – and there is more we can to build on these methods and develop others.


Looking ahead: Exploring ways to better nurture and scale preventative innovations
What we've learned so far highlights the need for preventative innovations with the potential to scale, and the value in embedding people-centred and rigorous research practices in early-stage organisations. We think this approach will lead to better outcomes for people experiencing mental ill health – harnessing the scaling power of start-ups to reach more people, in an evidence-backed and user-validated way.
Here are some of the ideas we are currently exploring: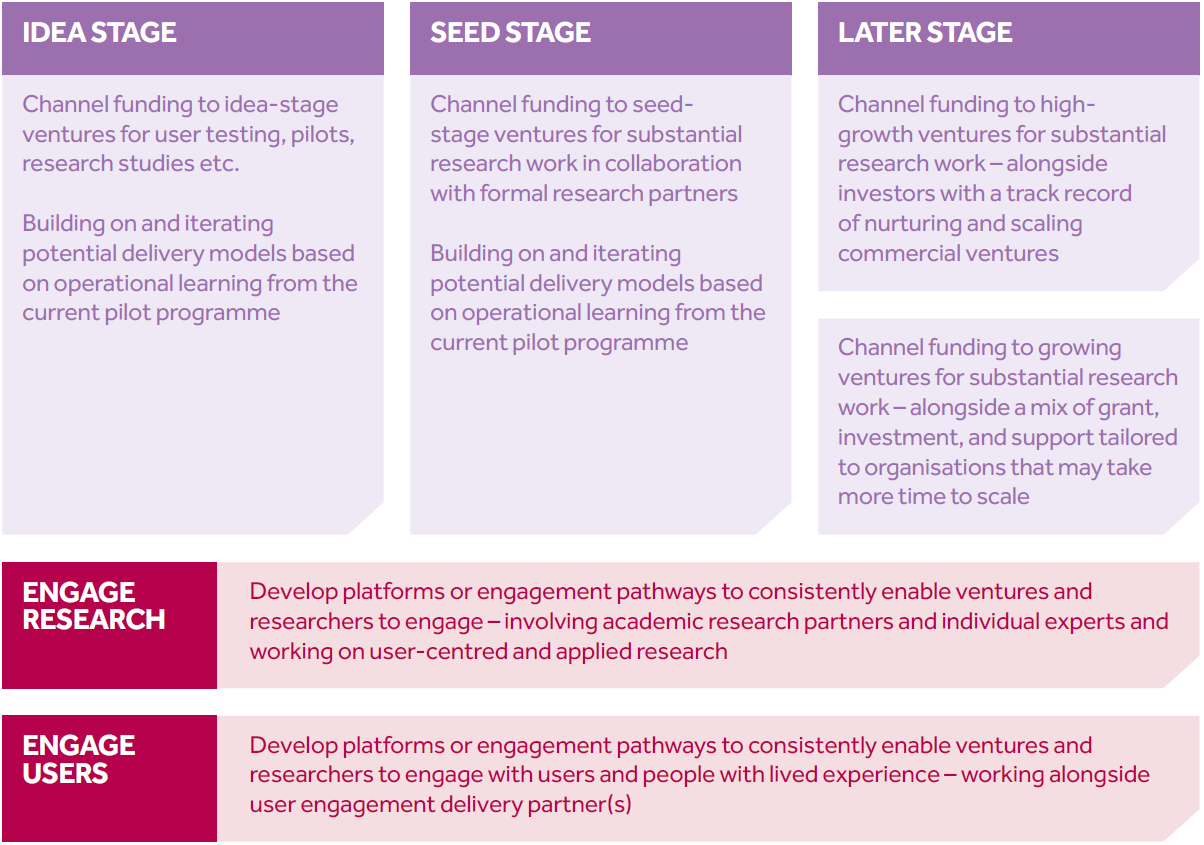 As we do this, we want to get our teeth into questions such as:
Can we harness the energy in existing early stage funding models, alongside research and user engagement, to improve mental health outcomes?
Can we build an investment model to support organisations that have a deep impact but will scale less, or more slowly, than allowed for in existing venture investment models?
How can we best embed rigorous research practice in a proportionate but effective way in early stage organisations?
Which models and approaches are best suited to help organisations engage directly with people experiencing or at risk of mental ill health?
We'd welcome any thoughts and feedback on these ideas, especially if you are working in this area or would like to collaborate with us.