£

148

m+

committed to blended finance funds

33

number of blended finance funds we have invested in

£

270

m

made available to social purpose organisations using blended finance
Timeline of blended finance at Big Society Capital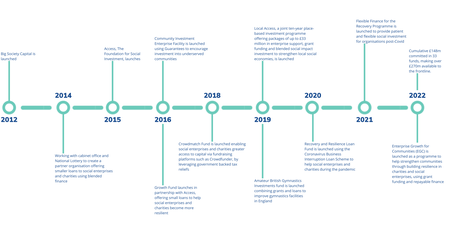 What has it looked like in practice so far?
Social impact investment is a constantly evolving space so there are many examples of how blended finance products and blended structures have been used to create impact, particularly in the international development space. As we build the necessary resources for tackling the social inequalities we currently face in the UK, we have tried a number of different approaches. At Big Society Capital we continue to work with partners to develop and improve these to find the approaches that are most effective.
Operating at fund level to unlock larger, more diverse pools of capital for organisations who are looking to increase their social/ and or environmental impact.

Blended Products are finance packages that enterprises can access directly. They combine repayable finance alongside a second element that does not need to be repaid, for instance a direct grant and/or free advice and business support (also known as technical assistance).
Read more on Blended Finance