At Big Society Capital, we work to improve the lives of people in the UK through social investment. While our focus will always be on the impact for end beneficiaries, we know that this impact is only possible through frontline charities and social enterprises. Therefore, the resilience of these organisations, as well as their ability to grow, is of vital importance.
This is even more the case in the current context as social sector organisations have faced a double hit from recent shocks such as Covid-19 and the current cost of living and energy crisis, as not only are their operations and finances impacted, but they also face increased demand for their services to support the most vulnerable in our society.
We're publishing a report today sharing our learnings from the past two years on how to understand and measure the impact of social investment on the resilience of social sector organisations and their ability to grow their impact. It is not our intention to claim that our approach is perfect or necessarily the right one for every aspect of this important question. We instead hope to contribute our reflections to the wider discussion about the resilience and growth of social enterprises and charities – a discussion that has become pressing given the external environment.
Introducing our framework
You may have seen our previous blogs about understanding why organisations take on investment and what they spend the proceeds on and highlighting case studies of how social enterprises have used investment to improve their financial resilience and grow their impact. We've brought these elements together in what we call our enterprise-level impact framework. We hope that this framework will allow our partners and us to see more clearly if, and how, we are helping the social sector. This should lead to improved decision-making on our part and better practice and performance for the sector as a whole over time – leading ultimately to more impact. Putting the enterprise-level impact framework into practice meant coming up with a measurement methodology. Together with Access – The Foundation for Social Investment, we ran a pilot with five fund managers, Key Fund, GMCVO, Northstar Ventures, Big Issue Invest, and Social Investment Scotland, to test this methodology. We analysed purpose of investment and use of proceeds data from the fund managers, survey data from their borrowers, and publicly available financial data.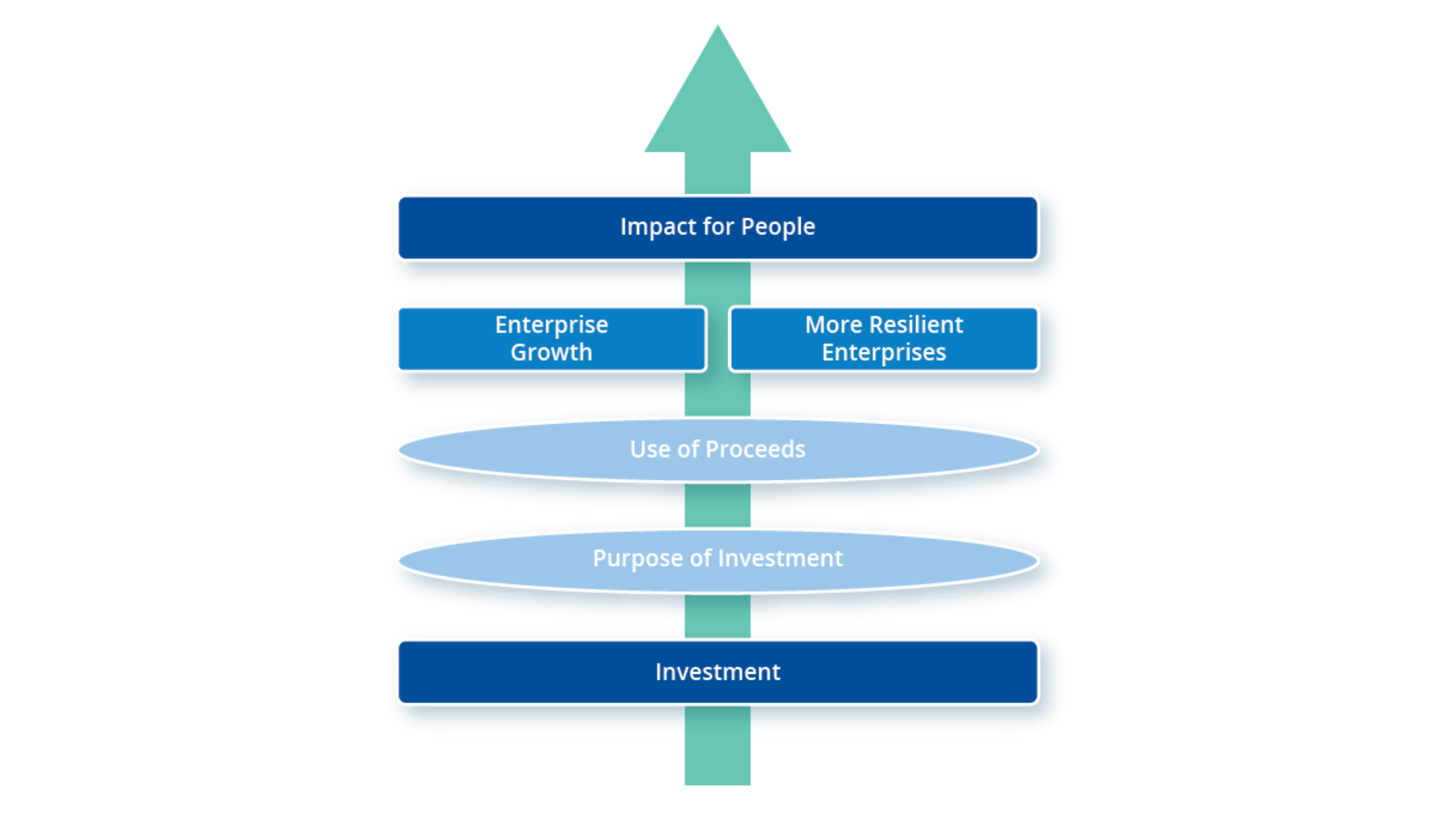 Findings from the pilot
What we found was really positive. Borrowers on average reported strong resilience and impact growth, and generally attributed that growth to social investment. This was borne out by positive trends in borrowers' financials. We also found our methodology, particularly the collection of purpose of investment and use of proceeds data, to be very useful in providing a clear, standardised snapshot of a portfolio. However, we also know that our approach is not perfect and there is further work still to be done (and lessons to be learnt from our partners). Measuring resilience and impact growth is difficult and can be subjective, and the availability and quality of data was an issue.
Despite challenges, most importantly we learnt that our partners saw real value in the enterprise-level impact framework. Often, our findings weren't surprising to them, but the framework helped them articulate what they had already known for a long time. It also proved helpful in ways we didn't expect: one fund manager explained how they used the 'use of proceeds' data as a marketing tool, to show prospective borrowers why their peers were taking on social investment. With this vote of confidence, we're going to keep refining the framework, incorporating feedback from fund managers and social enterprises.
Taking the framework forward
We know that there is interest in this topic beyond just our partners. The sector more widely is much more active in exploring how to support charities and social enterprises to become more resilient and to grow. We also know that we are still just at the beginning, and there are many exciting ways we can evolve and build on our initial enterprise-level impact work. If this is a topic that interests you, we encourage you to read our full report and would love to hear from you as we consider the best way to take the enterprise-level impact framework forward.