On Thursday 7th November, Big Society Capital brought together a range of social impact investors from across the capital spectrum to celebrate their achievements, continue momentum and inspire others to make investments that create social change.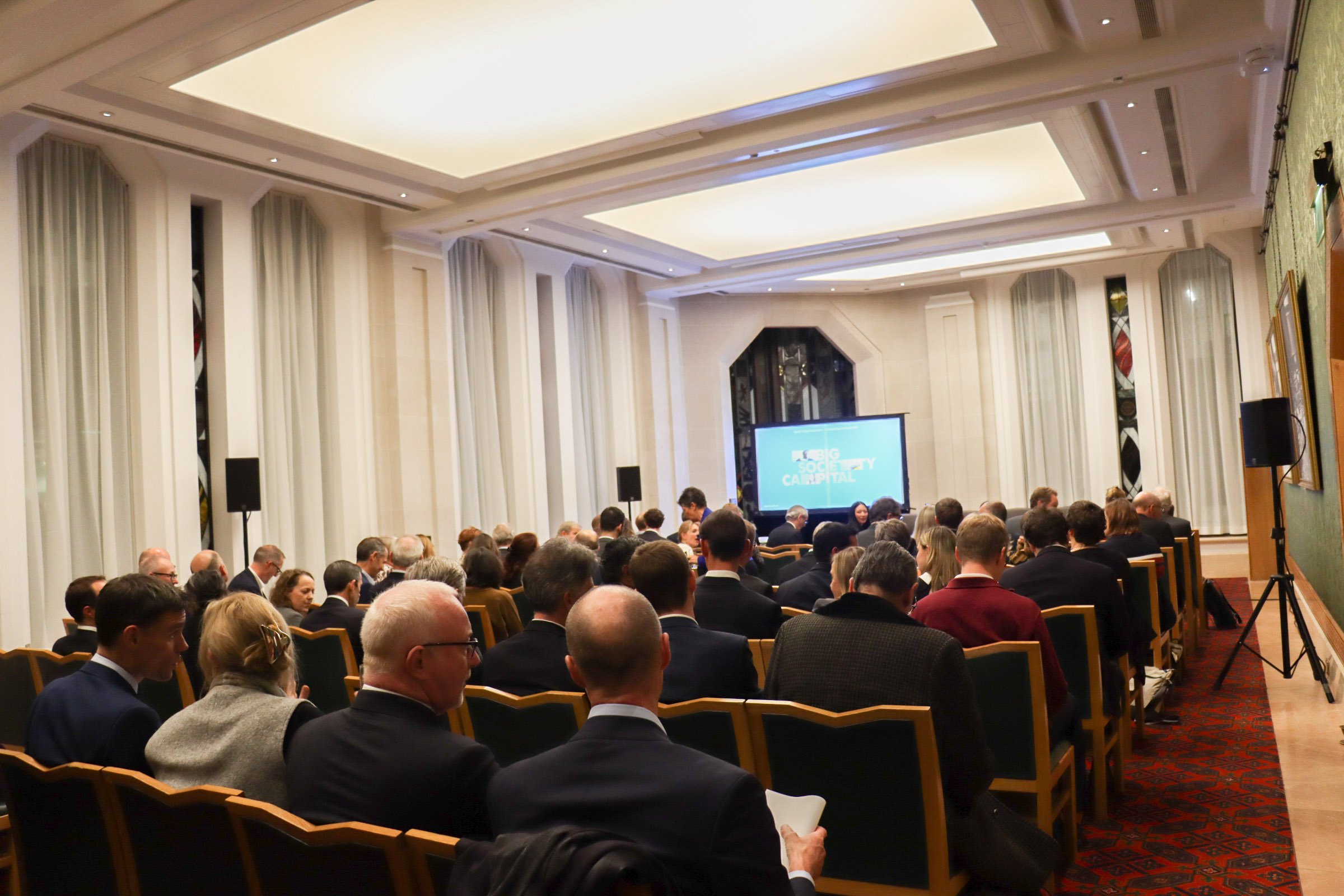 "We are all part of a global movement, a movement focused on aligning investment with our personal values"

Jeremy Rogers, Chief Investment Officer, Big Society Capital

Big Society Capital has committed over £550 million to investments targeting a measurable and lasting impact on people's lives in the UK. But we have not acted alone. It is the investors, and the social enterprises and charities they invest in, that create the impact. More than 100 pioneering institutional investors have invested alongside us, collectively committing more than £1.75 billion to impact investments since 2012.
On Thursday 7th November, we came together at The Guildhall with many of these investors to celebrate this huge achievement and their contribution to the growth in the social impact investment market in the UK.
Our Chair Sir Harvey McGrath opened the evening by thanking the investors who had contributed so far and encouraged those who have not yet invested to join the movement.


"Without doubt, the need to mobilise capital to help address the Sustainable Development Goals and the social and environmental challenges we face has never been greater. Please join us in this growing movement"
Sir Harvey McGrath, Chair, Big Society Capital

We heard from an inspiring social entrepreneur Rosie Ginday MBE, Founder and Managing Director of Miss Macaroon. The social enterprise makes macaroons for retail customers, weddings and corporate events, using the profits to fund catering and pastry training for long-term unemployed young people in the Midlands.
Our investor panel showcased a range of very different asset owners, all of whom have invested for impact; Trust for London, University of Edinburgh, Merseyside Pension Fund, Ceniarth LLC and an individual investor Dr Thelma Lovick. These investors are all united by their common motivation to invest with the dual purpose of making a financial return and creating positive social change.
Simon Chisholm, Chief Investment Officer, of the social impact fund manager Resonance shared the story of Paul, a former alcoholic who found himself homeless. Through the help of St Mungos and the support of Resonance Real Lettings Property Fund, Paul now has a safe, secure home and a support network. Watch his full story below.
Resonance is a dedicated social impact funds manager managing a range of impact funds investing across property, community assets and enterprise growth. They currently manage three property funds investing across London, Milton Keynes, Bristol and Oxford with over 1,500 tenants housed.
And to round off the evening, our Chief Investment Officer, Jeremy Rogers invited the audience to imagine a world where investments don't just try and avoid doing harm, but instead, where all investments strive to do measurable good.