This blog was co-authored by Bob Annibale, Chair of the Community Investment Steering Group, Global Director, Community Development and Inclusive Finance at Citi and Rebecca MacDonald, Investment Director at Big Society Capital.
Small businesses are an essential part of a local ecosystem, both as employers and generators of local wealth. In the United Kingdom, they make up 99% of businesses and employ 12.9 million people, nearly half of all jobs. Yet many sustainable small businesses, especially in left-behind communities, cannot access mainstream finance to sustain or grow their activities.
This is why the Community Investment Steering Group (a representative range of stakeholders [1] brought together by Big Society Capital and Citi) has created its report, Scaling Up Community Investment in the UK, setting out its vision of:
"Significant social and economic impact in underserved communities, created through sustainable capital invested at scale by a resilient enterprise lending CDFI sector"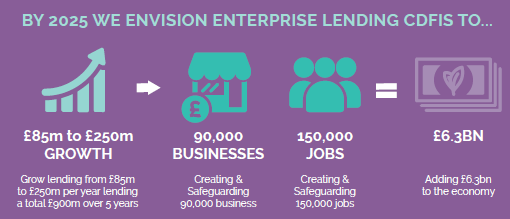 Community Development Financial Institutions (CDFI) have a social mission to increase access to finance for underserved, yet sustainable, small businesses to help them to survive and thrive in their communities. They play a vital role in addressing the lack of access to mainstream finance for small businesses. Scaling Up Community Investment in the UK reveals an opportunity to significantly scale and amplify the social and economic impact that CDFIs create in left-behind and disadvantaged communities.
The Steering Group estimates that with the right support, CDFIs could increase their lending to £250 million a year to small businesses, adding up to £6.3 billion social value to the economy in the next 5 years. However, CDFIs cannot reach their full potential alone. In order to scale up community investment, it will take collaboration and engagement with government and investors. Below are key recommendations for each of those groups.
Recommendations
For national and local government the key actions recommended by the Steering Group are:
Develop dedicated funding sources for enterprise lending CDFIs – this could be modelled on other small scale finance organisations such as Access for social enterprise and Fair4All Finance for personal lending CDFIs

Actively consider the role of CDFIs to deliver inclusive growth at the Combined Authority, Local Authority of Local Enterprise Partnership level

Develop new funding programmes through the British Business Bank to support CDFIs to deliver to underserved small businesses
Recommendations for investors include:
Set out the conditions on which they will invest in CDFIs by coming together through UK Finance
Develop a shared understanding of investors' broad diligence requirements through a collaborative working group with CDFIs
These recommendations present an opportunity to create a more favourable environment and significant social and economic impact in underserved communities.
Read the full report to learn more about the economic, social and financial case for investing in CDFIs and consider how you can help achieve our ambitious vision. If you're interested in finding out more, get in touch: rmccartney@bigsocietycapital.com