As 2020 draws to a close, many of us are spending time reflecting. For me, as I look back at a challenging and disruptive year, what stands out is what I have learnt from charities and social enterprises.
At the beginning of the crisis, I certainly wasn't sure what the appetite for social investment would look like and in what shape our engagement work would take. We learnt quickly that the desire to explore the world of social investment was still there, but we'd have to find new and innovative ways to continue to have vital conversations.
Our team has spent much of the year experimenting, moving our engagement activities online, and this has presented both challenges and unique opportunities. We have developed collaborative new partnerships with organisations such as Community Action Suffolk, Voluntary Norfolk and the Greater Manchester BAME Social Enterprise Network. We have reached bigger geographic areas and responded to need as it morphed and changed. Yet, as we broke down geographical boundaries, we yearned for the opportunity to come together with the power of collective thought in-person. We have learnt that this simply cannot be re-created through online platforms, however sophisticated they may be.
As the sector dealt with emergency responses to the COVID-19 pandemic, we heard from social entrepreneurs and charity leaders about how their social investors had provided unparalleled support, optimistic about their continued impact and the vital role they play in our societal recovery. Whilst the social sector has never felt more valued, we have to ensure that this doesn't fade and that charities and social enterprises remain at the forefront in building back better.
It is a great privilege to work within my role at Big Society Capital and this year, creating opportunities to have meaningful conversations, to listen, reflect and learn has never felt as important or as needed. Here are five key learnings I will take away from the social sector this year:
On the first day of Christmas, the social sector gave to me:
Learning 1: Everyone is not equal and we still have a very long way to go.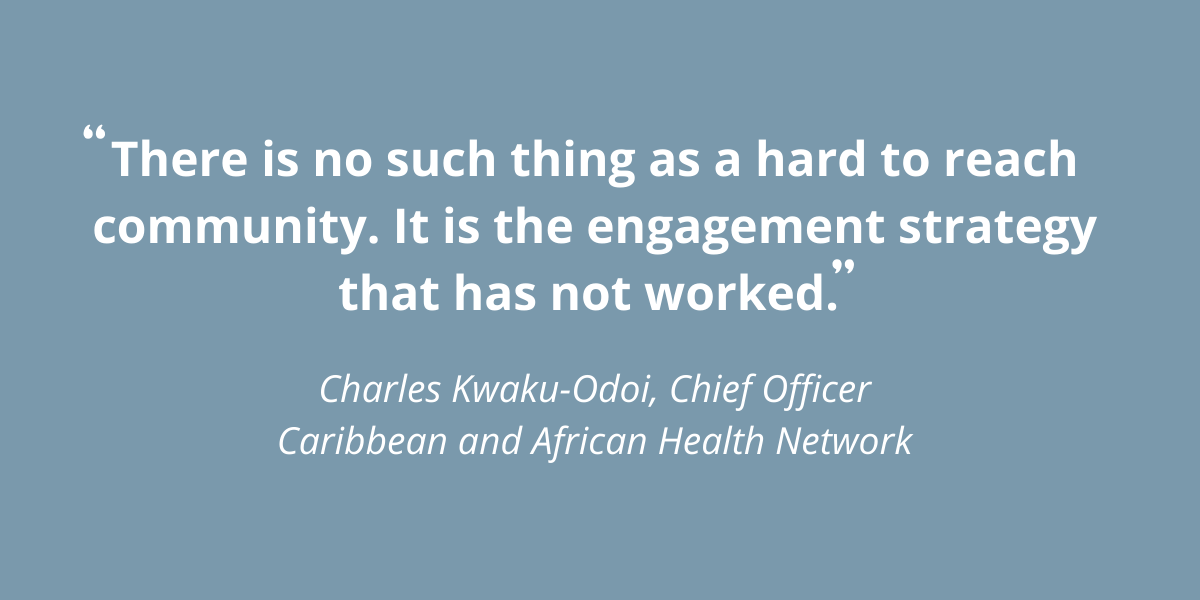 The disproportionate impact of the COVID-19 pandemic on ethnic minority communities accelerated conversations across our organisation, with the urgency that conversations had to lead to action.
This desire was compounded with a reality-check from Charles Kwaku-Odoi, Chief Officer at the Caribbean and African Health Network at the Big Society Capital Virtual Festival.
Our collective reflection was that the responsibility for ensuring successful engagement with marginalised communities lies solely on us, organisations doing the engagement work. With urgency, we are addressing the imbalance in access to information on social investment from black and ethnic minority organisations. With our partner Good Finance, we aim to collaborate with a range of organisations working with marginalised people.
On the second day of Christmas, the social sector gave me to me:
Learning 2: The appetite for social investment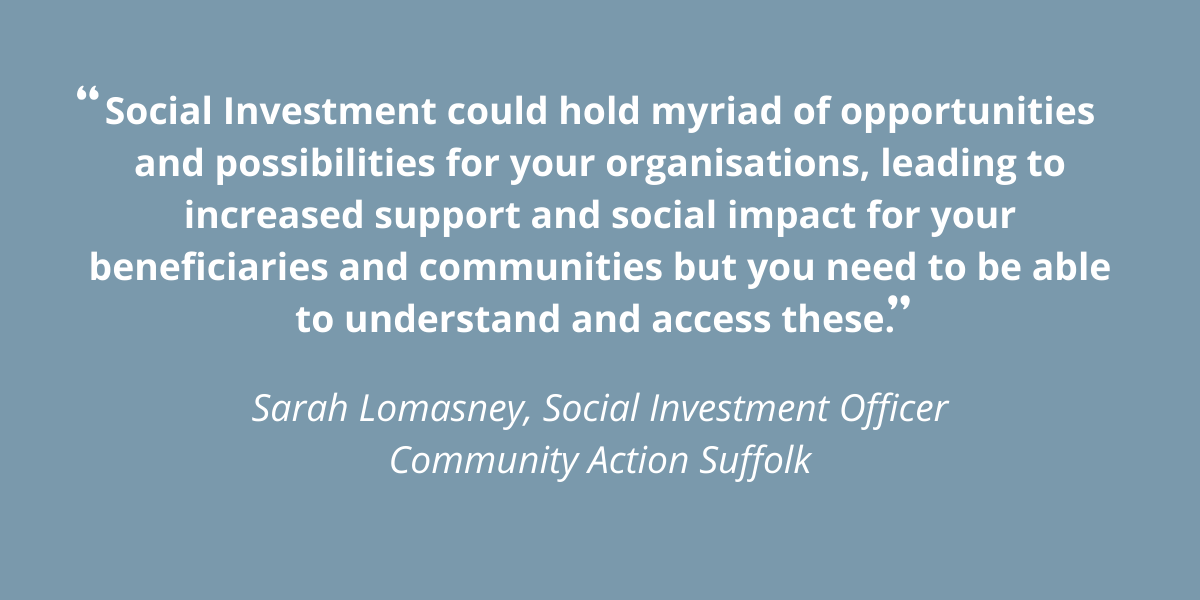 For some, considering repayable finance during a global pandemic might sound crazy. Yet, social investment has been used to transform community spaces that are needed now more than ever, to re-shape vital services, to unlock innovation and continue to drive scale-up ambitions.
Running a successful virtual event in November as part of Trustees' Week, we were joined by over 30 board members keen to explore and learn more about social investment. Having access to the tools that allow organisations to make informed decisions about how repayable finance could be used is often the key to unlocking ideas and innovation.
On the third day of Christmas, the social sector gave me to me:
Learning 3: Social investment has proven it is social
A question I am asked often - how social is social investment? This year, it has really been put to the test. Unlike many traditional lenders, social investors build strong, collaborative relationships with the organisations they invest in. Just like Rebecca White, CEO of Your Own Place, many mission-driven organisations have relayed to us the unconditional support received from their social investor during the COVID-19 pandemic.
Whether it's extending loan periods, delaying repayment or providing payment freezes, this flexible approach has allowed organisations to focus on their mission and focus on delivering their impact - which is absolutely what they do best.
On the fourth day of Christmas, the social sector gave me to me:
Learning 4: The virtually impossible is now possible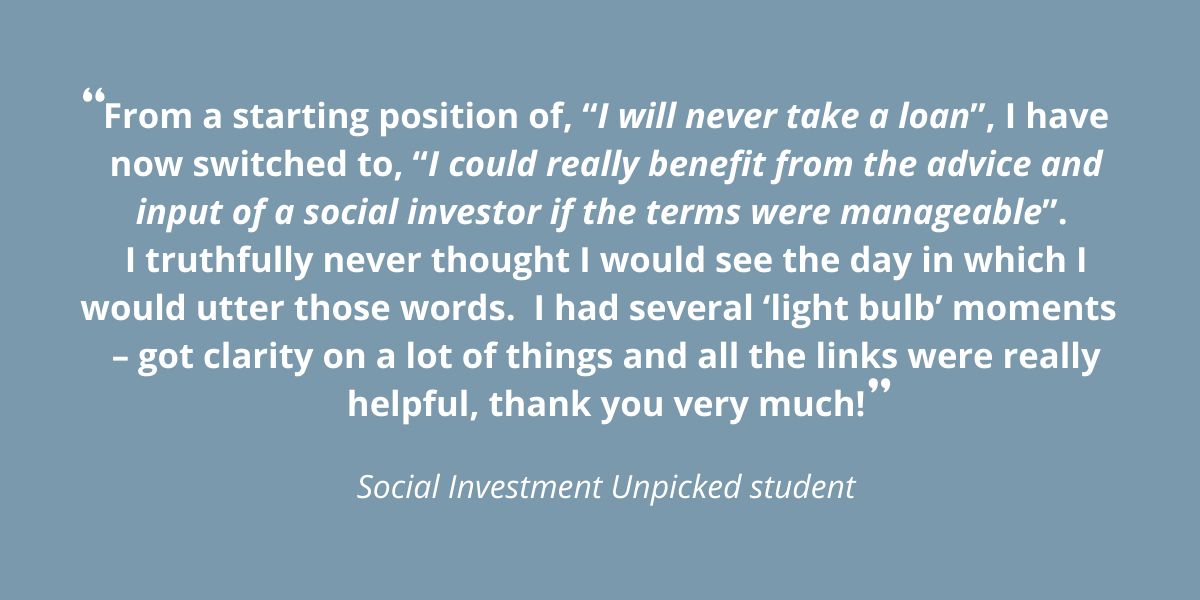 We can deliver events online and now with our new supported distance learning programme Social Investment Unpicked, we can help social entrepreneurs and charity leaders, capacity building organisations and consultants to learn about social investment in an accessible, 'interesting' and 'engaging' way (the learner's words not mine honest!)
On the fifth day of Christmas, the social sector gave to me...not five gold rings but the golden building blocks to underpin a better recovery.
Learning 5: Building back better and building back together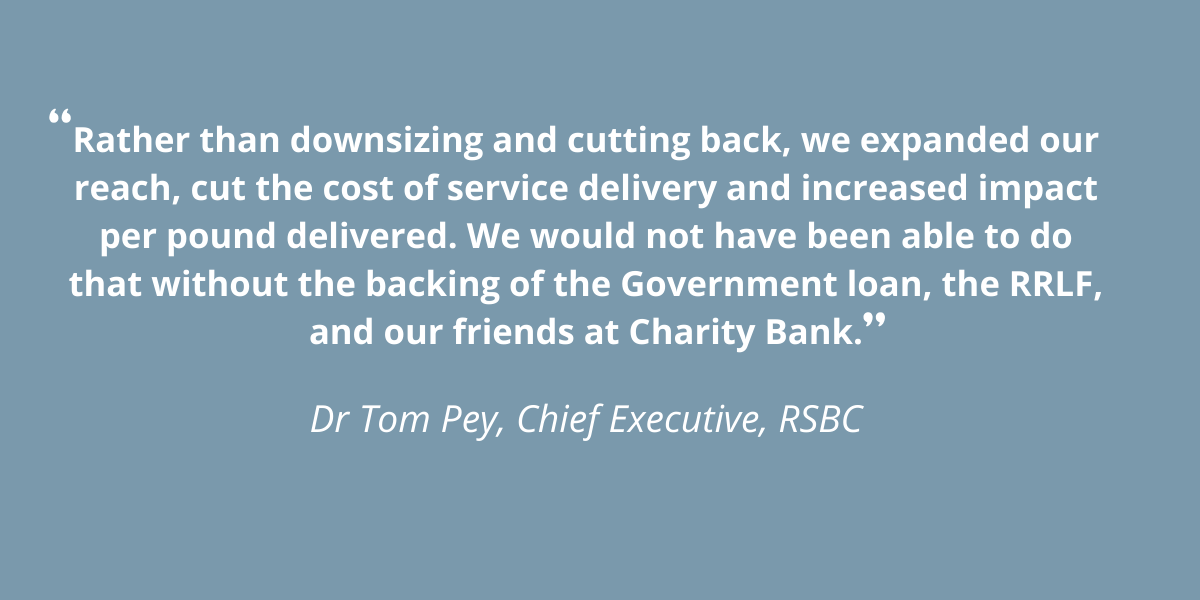 All the research and narrative has allowed the real value of community, volunteering, togetherness and the vital role that social enterprises and charities have played to shine through. This underpinned by the need for social investment to help support organisations whose focus on impact is #NeverMoreNeeded.
Whilst many of us look forward to the New Year, we are committed to ensuring that these learnings, our lack of intolerance for inequality, innovating beyond imaginate and providing investment that can help build back better together go far beyond the pandemic.