Last week Big Society Capital's social property team made its way to Leeds to join the 4,000+ developers, architects, contractors, investors and local council representatives attending this year's Real Estate Investment and Infrastructure Forum (UKREiiF).
Over the three days, 'Levelling Up' was a central theme – with speakers including Leeds Mayor Tracy Brabin, Greater Manchester's Andy Burnham and Bristol's Marvin Rees discussing how communities outside of the capital could be further supported.
Spotlight on social and affordable housing
While social and affordable housing was not referred to in as many of the sessions as Big Society Capital would have hoped for; there was certainly one group of speakers who were very keen to highlight how essential it is when it comes to levelling up. These were the fund managers and investors on our own panel:
We had a full ranging discussion, all rooted in tangible examples of how social and affordable housing funds can make a meaningful contribution to the housing crisis. I can't repeat everything here, but here's how they responded to three of the questions we get asked the most:
1.Do you trade financial returns for social impact?
Paddy: No, these are conventional returns commensurate with the risks that we are taking. When you assess the quality of the cashflows, the quality of the managers, and the governance; you begin to see that they are appropriately risk adjusted. These aren't outsized returns, so it doesn't work if the investment manager takes 30% of the profits; but they are appropriate for the impact and the risk profile.
Simon: Our homelessness property funds have created fair, risk-adjusted returns over the long term. We've been partnering with local authorities as investors and delivery partners for many years. A local authority might also see the benefit in the potential of receiving not only the return on the investment but also savings in their temporary and emergency accommodation budgets, which can traditionally be a big financial burden. But pension funds are now attracted to these funds by the diversified exposure to UK residential property appreciation, and long-term income with a good relationship to inflation over the medium to long term.
2. Is the model of leasing to housing associations inherently bad?
Shamez: I think leases are just a tool. The key is ensuring the tool is fair for all stakeholders. We want to take this tool and make it so that risks and rewards are balanced. In our Community Housing Fund, for example, we work with housing associations to develop the most suitable lease terms for their organisations, and investors.
Housing associations are looking at these models as a way of creating operational leverage, another revenue stream. Their ability to generate capital has been affected by challenges including Grenfell and the decarbonisation agenda. So, leases offer one route to growth with a partner they trust.
3. Having measurable social impact can be written off as a nice to have, how do you think about it?
Jennifer: We are a housing delivery agency, so our diligence predominantly focuses on pipeline, capability to deliver, and less explicitly on the impact reporting. However, I think what our stakeholders increasingly want is to know is how a management team and the co-investor group are going to react when things aren't going so well, when there are challenges, and when there are decisions to be made. Impact investing and the associated measurement puts a real spotlight on that.
Simon: We start a fund by going to the organisations that we think are showing best practice in a particular intervention, and we ask them what makes it work. In our homelessness property funds our partners tell us they measure success through looking at how many tenants move on into the private rented sector; how many have progressed towards accessing education, training and work; and social connection – all of which help with resilience against future homelessness. It does mean that comparability can be more challenging; but it's the right place to start.
Shamez: One of the key measures we look at with the Man GPM Community Housing Fund is affordability. Over the past 20 years, people have been priced out of their own communities. We have established a methodology that links the rental costs to local incomes to ensure that local families can afford to live in new housing. It is also important to us that we have an independent person that monitors our investments for this. Understanding and learning from lived experience is also critical.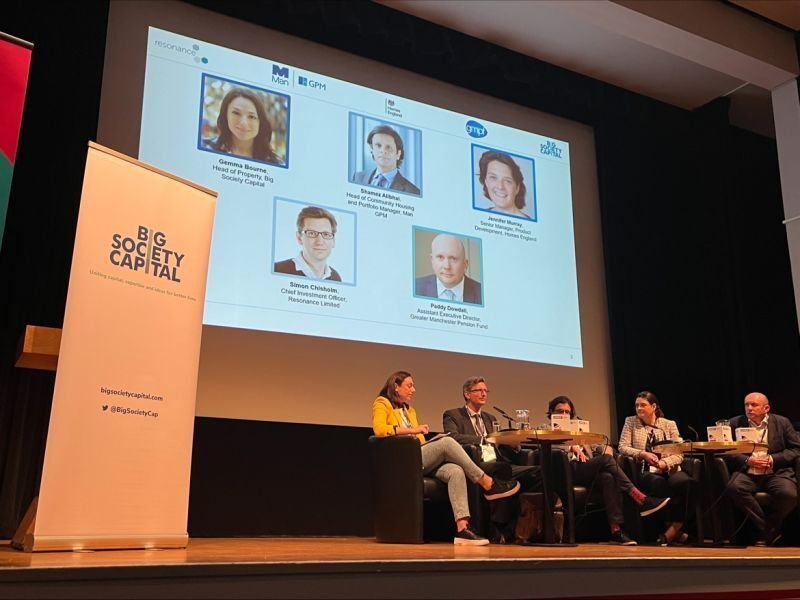 Looking forward
It's encouraging to see that the property industry is now starting to take social impact seriously. What we need now is for that discussion to be translated into action in a way that works fairly for all stakeholders. The need for more social and affordable housing should be firmly at the heart of the levelling up agenda. We hope discussions like the one between our panellists will continue to rise higher up the agenda at these events – and that social and affordable housing has an even higher profile at next year's UKREiiF.
Finally a special mention to Freehold, a networking forum for LGBTQ+ professionals working within the real estate sector, who provided a brilliant walking tour demonstrating how the city's LGBBTQ+ community has aided regeneration.