Hebridean Whale and Dolphin Trust
Challenge​
Whales and dolphins play a vital role in the marine ecosystem, helping to offset carbon in the atmosphere and maintaining a stable food chain by ensuring that certain animal species do not overpopulate the oceans. However, they face a number of threats including damage to their habitats from plastics and pollution, being caught in fishing nets, whaling and commercial operations such as shipping, and drilling for oil and gas.​
Approach​
The Hebridean Whale and Dolphin Trust was founded in 1994 for the conservation of whales, dolphins and porpoises in the waters of western Scotland. It conducts large-scale research, provides education, and reaches out to the local community and helps them engage with the importance of the local marine life in this remote area of the Scottish west coast.
The Trust has a Discovery Centre located on the Isle of Mull, runs roadshows across the islands, supports a local network of Whale Track wildlife recorders, and has a vessel, Silurian, that enables it to collect a long-term, consistent data set on animal trends and behaviours that are essential for understanding and conserving the marine life. ​
The Trust received two loans from Charity Bank (which Big Society Capital is a shareholder in) totalling £25,000 to carry out emergency repair work and improvements at the Discovery Centre, which now hosts a variety of exhibits and a shop. Income revenues come through trading activity, public fundraising and grants from Public Funders such as the National Lottery, Trusts and Foundations. The loan was successfully repaid in 2019.​
Impact​
The Trust provides 20,000 people with educational experiences each year in schools, community settings, the Discovery Centre and aboard Silurian, including workshops and marine wildlife watching.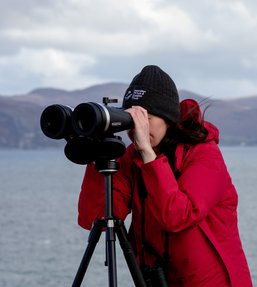 Hebridean Whale and Dolphin Trust
The shop in the Discovery Centre dispenses eco-refills, further reducing the amount of single-use plastic in the area. The Trust's pioneering citizen science research monitors marine wildlife on a large scale across the west coast of Scotland. The information is put to good use, informing marine protection policies and encouraging responsible use of our waters. The Trust launched the Hebridean Whale Trail to promote low-impact accessible land-based whale watching, and members of the public can also use the Whale Track app to contribute to conservation efforts.