Impact management
Impact management is crucial if we're to make sure our investments and capital ultimately improve people's lives.
63000

Number of Outcomes Matrix downloads since 2012

400

Number of people attending Big Society Capital training session in the last two years

2000

+

Number of practitioners in the Impact Management Project, supported by Big Society Capital
The challenge
Understanding what good impact management looks like in practice across different asset classes and actors in the investment ecosystem remains very much a work in progress across the whole. Nevertheless, we've been able to make significant progress over recent years, in particular through initiatives such as the Impact Management Project and the IFC Operating Principles for Impact Management.
This is beginning to help the wider sector come together around a common understanding and we're committed to playing an instrumental role in this area over the coming years. ​
Our approach
In terms of improving impact management practices across the wider sector, we take a multi-faceted approach. This combines:
hands-on capacity building with individuals and organisations;
offering development support to industry impact standards;
and providing impact tools and thought leadership to a broader range of sector participants.
And given the fast-changing nature of the field of impact management, we're committed to learning and continuously improving how we measure, assess and manage for greater impact across our investment portfolio. As part of this commitment, we recently joined pioneer investors signing up to the IFC Operating Principle for Impact Management in March 2020.
Impact and learning
In recent years we've made significant contributions in four key areas.
Training
We've delivered impact management training and bespoke capacity building with our fund managers and intermediaries. We've trained more than 400 people in the last two years, and played a hands-on role in improving impact management systems across a number of key organisations such as Key Fund.
Impact Management Project
Secondly, we've supported the set up and development of various standard-setting organisations in the field of impact management, such as the Impact Management Project (IMP). We were a founding supporter of IMP in 2016, and continue to fund and support it as a member of its advisory council.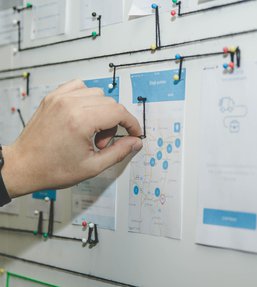 Impact management tools
We provided general impact management tools, such as the Big Society Capital outcomes matrix, in earlier years. And we'll continue to do so, with potentially more asset-class specific impact for investors and fund managers, in the future. The Outcomes Matrix had been downloaded 63,000 times since it was published in 2012.
Impact initiatives
More recently, we've started to co-develop and lead sub-sector specific impact initiatives. Our aim here is to define and improve impact management and measurement in specific asset classes or themes/areas of our portfolio. The Equity Impact Project – which we launched in 2020 in partnership with the Impact Investing Institute, The Good Economy, and a number of investors – illustrates this newer approach to improving impact practices within housing. ​
What's next
As the overall UK impact investing market evolves, we'll increasingly take an asset-class or thematic view on improving practices across the sector. In doing so, we'll continue to collaborate closely with other key actors in the sector and impact value chain, most importantly the fund managers we work with.
Aside from our focus on impact practices in the wider housing sector, we see real potential for further sub-sector impact initiatives in our venture portfolio. We're also in the process of developing – in partnership with Access – The Foundation for Social Investment and in consultation with various fund managers – a more systematic approach to defining and measuring enterprise level impact in relation to enterprise resilience and growth. This approach will be especially relevant to our debt and smaller loan funds.