Trust for London
Trust for London is an independent charitable foundation that aims to tackle poverty and inequality in London. It grants around £10 million each year to voluntary and charitable groups, supporting around 300 organisations at any given time.
As well as making grants, it funds independent research and provides knowledge and expertise on London's social issues for policymakers and journalists.
Like many charitable foundations, Trust for London wanted to invest its endowment in a way that delivered on its charitable mission as much as its grants do. Social impact investment offered a way to do that.
Trust for London is one of the founding members of the Social Impact Investing Group (SIIG), which supports trusts and foundations interested in starting or already undertaking social impact investing. The SIIG has been convened by the Association of Charitable Foundations since 2018, and by Big Society Capital before that. The SIIG runs Market Information Days run every 6-8 weeks to educate attendees about the latest social impact investment opportunities from charities, social enterprises, social purpose organisations and social impact funds.
Trust for London has a long history of investing for social impact. In the 1920s, the Trust bought 350 acres of land for recreational activity, providing new open green spaces for Londoners that it still owns today.
By the 1990s, the Trust launched Resource for London in Holloway, turning a disused department store into fair and flexible office space for social enterprises and charities. This enabled social sector organisations to thrive, while also achieving a realistic return on investment. The model was developed to create the Foundry Human Rights and Social Justice Centre in Vauxhall, in partnership with the Ethical Property Company and other social investors – including Big Society Capital's very first investment.
Trust for London has now committed just under 10% of its total endowment to social impact investment. It has a dedicated Social Enterprise Committee that oversees investments, and has established a dual investment approach. This approach makes capital available directly to social enterprises and charities, and through fund managers and intermediaries such as Bridges Fund Management, Social and Sustainable Capital and Big Issue Invest in funds alongside Big Society Capital. The Trust is now exploring strategic opportunities, including how to make social impact investment more accessible to smaller and more diverse social entrepreneurs.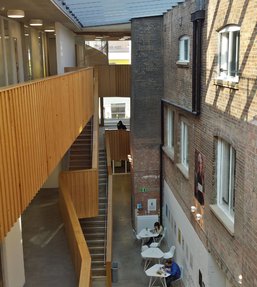 The Foundry Human Rights and Social Justice Centre