Renewables
Ownership of renewable energy assets can help community groups generate their own energy and reinvest profits into local projects.
£

90.2

m

Drawn down from Big Society Capital

– Data from Big Society Capital

£

124.8

Drawn down from Big Society Capital and other investors alongside us

0.4

x

Amount our capital has been matched by other investors
The challenge
It is possible to help tackle some social problems like fuel poverty while protecting the environment by bringing private energy assets like solar or wind farms into community ownership. However, the phasing out of incentives like the Feed-in Tariff and tax relief for investment in energy projects slowed the growth of this important market for community-owned renewable energy. ​
Our approach
Our approach has been to try to grow the market by investing through specialist fund managers and intermediaries which are helping local communities acquire renewable energy projects. So far, we have invested in two managers - Community Owned Renewable Energy Partners (CORE) and low carbon charity Pure Leapfrog. These fund managers understand the financial product, the market landscape as well as the needs of the communities. They acquire renewable energy projects like solar farms, help optimise their cash flow, and then provide the financing for local communities to acquire them. This enables local people to generate their own energy and reinvest the profits to benefit local people through local projects. We help by deploying and recycling our capital rapidly, as well as connecting projects with other investors, including community and institutional finance.
23

Number of large projects supported

– Data from fund managers across the portfolio

£

32.9

m

Forecast amount generated for unrestricted community benefit grant funds

382000

t

Amount of CO2 avoided
Impact and learning
We understand our impact in a number of ways:
The growth of the community renewable energy sector
The community energy sector has grown rapidly over the last decade, from a very small starting point. Our investments have played a major role in this growth, with Big Society Capital supported projects accounting for more than half (56%) of community energy generation at the end of 2019.
The positive impact created in communities
​The positive impact has been to help communities secure a stable income, at a time when other community revenue models have struggled. Stable revenues have been particularly valuable following the severe disruption felt by community organisations during the pandemic. Across our renewables portfolio, we've repurposed – and in some cases, accelerated – community benefit funds to provide targeted support, generating over £38 million, which has been used to benefit local people.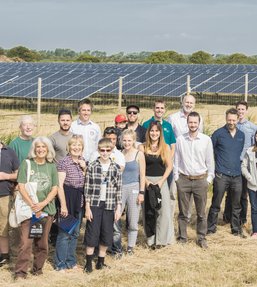 There have been key lessons for us and our partners.
Policy
Future growth in new and developing markets like this can be highly dependent on government policy and whether there are adequate incentives in place to drive investment.
Ownership
Ensuring diversity and inclusion in asset ownership is a challenge for some community energy projects. We need to find ways to create more inclusive ownership structures so that people with less time or lower incomes can also participate.
Managers
We learned that there is an opportunity to build on the expertise of small-scale specialist fund managers to reach greater scale. One example was the merger of the specialist community energy manager Pure Leapfrog into social investor SASC in 2020 providing the platform to deliver many more and larger projects.