Message from CEO
Like most organisations, last year was the year we started to learn to live with Covid-19, and I am very proud of the way Big Society Capital has adapted. We certainly did not allow any Covid restrictions to slow us down, and as you'll see in this review, 2021 was as busy and productive as ever.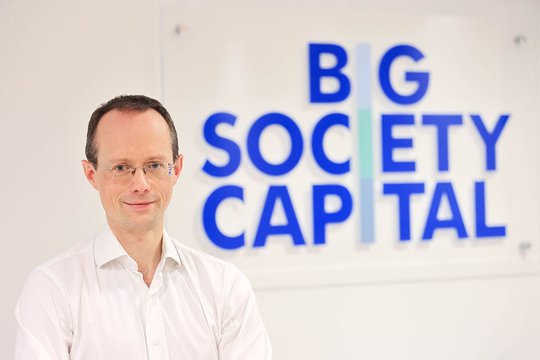 In 2021, we signed a total of 12 new investments (including five follow-on investments), totalling £80 million. Since we were launched, we have now committed over £820 million to reach more than 2,000 organisations addressing a wide range of social issues across the UK. This is nearly £200 million more than the original share capital of £625 million, subscribed from dormant accounts and four major UK high street banks. This means that the initial capital is now being "recycled", to reach more social enterprises and charities, improving more lives.
New strategy and market growth
2021 saw the launch of our strategy to 2025. Social impact investment has come a long way; increasing numbers of investors, investees and other partners are taking social impact investment seriously, and it is no longer a niche sector. This is reflected in the size of the market – which has increased almost eightfold to £6.4 billion. Our strategy is based on learning what has worked over the last decade, and sets out our plans to help to more than double the size of the market from its 2020 level, to £10-£15 billion by 2025.
Our work is now focused on four investment areas – impact venture, social lending, social and affordable housing, and social outcomes contracts – where we feel there is greatest potential for scale and, therefore, where we can make the biggest difference. We have ambitious plans to grow these areas over the coming years but, at the same time, we continue our work to find the next, big investment ideas.
Collaborating with partners
In collaboration with partners across our network, 2021 saw us deliver multiple high-impact, market-building projects.
Following on from the £75 million raised at its initial public offering in December 2020, the Schroder BSC Social Impact Trust raised an additional £10.8 million of capital from existing shareholders and new investors – an important step in the growth of the Trust. Read more here to find out more about the role of the Trust in increasing access to the social impact investment sector.
The Everyone In social investment pilot collaboration with Government, saw an extra £30 million of funding committed through three fund managers into five investment funds, focusing on delivering housing and support to individuals who are currently rough sleeping, and families at risk of homelessness.
We worked with partners across the sector on the campaign to extend Social Investment Tax Relief. Our collective efforts were recognised with a two-year extension to the scheme, which can be used by social enterprises and charities looking to raise patient and affordable capital.
As part of the initial response to Covid-19, we worked in partnership with Social Investment Business on the creation of the Resilience and Recovery Loan Fund. Dedicated to tackling the effects of the pandemic on charities and social enterprises, the fund helped them to access financial support and continue to deliver vital services. Over its lifetime, the fund approved £28 million in total funding to 77 charities and social enterprises across the UK, and was awarded Social Investment Deal of the Year at the 2021 UK Social Enterprise Awards. A great example of social investors across the ecosystem working together to deliver for the social enterprise sector, and we were very proud to have been involved.
Financial performance
In 2021 we reported a net profit of £16.1 million, a significant increase on the previous year's profit of £3.7 million and representing a return of 2.6% on average capital deployed. Our net profit is largely due to some well-performing investments in our impact venture portfolio, which are as yet unrealised. These results put us on a clear track towards being the sustainable organisation we were set up to be, and are strong evidence that our investments can generate positive financial returns alongside demonstrable social impact.
Changes in leadership
On a personal note, I was delighted and honoured to take on the permanent role of CEO last year, having been interim CEO since April 2020 and part of Big Society Capital since 2016. I feel fortunate to work with such a passionate and talented team of staff, board members and wider stakeholders, and am excited about the opportunity that we have to take social impact investment to the next level.
I would like to offer heartfelt thanks to Sir Harvey McGrath, who completes his term as our Chair and steps down this year. His contribution to our growth and progress over the last eight years has been significant, and we are truly grateful for his guidance and leadership. He passes the baton to Robin Hindle Fisher, who has taken over as our new Chair. I, and the rest of the team at Big Society Capital, extend a warm welcome to Robin, and look forward to working with him to further our mission.
As always, thanks must also go to the entire team at Big Society Capital, who have worked so hard, and to the Board for their support and guidance over this busy year.
Embedding equality, diversity and inclusion
Alongside our business strategy, we published our equality, diversity and inclusion (EDI) plan, which sets out our ambitions and plans to improve diversity among our own people and organisation, as well as throughout our investment process and market-building activities. You can read more details about our commitments and plans for equality, diversity and inclusion here. I am pleased with progress we have made so far, particularly on initiatives to explore how social impact investment can better reach different areas and diverse communities that have previously found accessing finance difficult. At the same time, I recognise there is still some way to go, and we remain committed to ensuring EDI is at the heart of our work.
Ten years of Big Society Capital
This year marks our tenth anniversary, and our reflections and celebrations throughout 2022 provide a perfect opportunity to reflect on progress, the lessons we have learned, and the contribution we have made to the social impact investment market since our inception in 2012.
It's important to recognise the progress that has been made, however there are still serious social issues throughout the UK where investment can help, and we will continue to work with our partners to find solutions that channel the right kind of capital to help tackle these issues.
I hope you enjoy reading this report, and will take inspiration for the next ten years from all the amazing work achieved so far.