Supporting fund managers
We work with fund managers, social banks and other intermediaries who also want to create a better, sustainable future to connect capital to the organisations improving people's lives. These are impact fund managers and other intermediaries looking to scale, as well as more mainstream managers looking to move towards investing with more impact.
We invest through these intermediaries and support them to raise more capital, deliver more investments and create more impact.
£

77.6

m

drawdown by 29 fund managers in 2021 (£101 million in 2020)

£

348

m

drawdown with matched co-investment in 2021 (£255 million in 2020)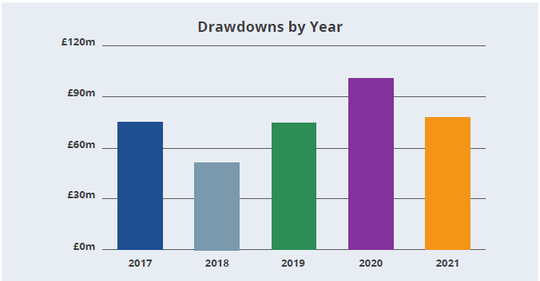 Total amount of drawdowns was lower than the previous year, mainly due to the increased activity in 2020 as part of the emergency Covid-19 response.
After an investment is made, we support fund managers to measure and manage social impact and financial performance, and help them to develop strong, sustainable business models.
We supported our fund managers in 2021 through a range of activities, including:
Assisting with the recruitment of 17 non-executive directors for Big Society Capital's partnered fund managers and frontline organisations, through our partnership with EquityChair.
Providing access to the expertise of Zamo Capital, which worked with several partnered fund managers to think through the key steps needed for scale and transformational growth.
Running a fundraising workshop mini-series, and impact management training for fund managers, with over 40 participants.
Extending training sessions on professional development for our staff, to members of staff from fund managers in our portfolio.
Running a three-part impact management workshop series, focused on helping fund managers improve their impact methodology and reporting.
Running the third cohort of the Aspire Leadership programme, designed specifically for senior staff members from Big Society Capital and its fund managers, as well as the second cohort of the Inspire Leadership programme for CEOs.
In 2021, as part of our work to formulate our strategy to 2025, we undertook a review of our portfolio management approach, to understand how best to support the fund managers and intermediaries we work with. As a result of the review, 2022 will see the roll-out of our revised approach to fund manager support. This will include the establishment of an Investment Network, to provide fund managers with access to expertise and resources to help them achieve their strategic goals.