2021 investments
In 2021 we made 12 new commitments totalling £80 million. This, alongside more than £319 million from co-investment, means a total of nearly £400 million of committed investment to funds across our market system areas in the year.
Investment Name
Market System
Commitment
Investment Summary
CBRE UK Affordable Housing Fund
Social and affordable housing
£20m
Follow-on investment – Affordable Housing Fund (AHF) aims to provide equity-like financing for registered providers to deliver affordable and social rental housing in the UK. CBRE Global Investors (CBRE GI) is seeking to raise £250 million for its launch.
Recovery Loan Fund
Social lending
£15m
Structured match commitment to lend to special-purpose vehicle set up by Social Investment Business, designed to leverage the Government's Recovery Loan Scheme Guarantees to deliver loans to the social sector.
Charity Bank Co-investment Facility
Social lending
£10m
Follow-on investment of co-investment facility, to enable Charity Bank to make larger loans to a wide range of charities and social enterprises.
Man Community Housing Fund
Social and affordable housing
£10m
Community housing fund to work with local authorities and housing associations to provide and deliver affordable housing.
Resonance Everyone In Fund
Social and affordable housing
£7.5m
Property fund to acquire homes for people at risk of homelessness in London, in partnership with Greater London Authority and National Association for the Care and Resettlement of Offenders (Nacro).
Balderton Growth Capital*
Impact venture
£5.1m
Late-stage venture fund seeking to support UK and European start-ups with global ambition to further their Sustainable Future Goals.
Resonance Community Developers Fund
Social lending
£5m
Blended finance fund, focused on supporting community groups to develop and own assets, particularly with a focus on housing and sports.
Ananda Social Venture Fund IV*
Impact venture
£3.5m
Early-stage venture capital fund, focused on scaling UK and European impact-driven for-profit enterprises.
Balderton VIII*
Impact venture
£1.5m
Early-stage venture fund seeking to support UK and European start-ups with global ambition.
Charity Bank
Social lending
£1m
Follow-on equity investment to provide additional regulatory capital, to enable Charity Bank to grow its existing loan book.
Fair by Design (Poverty Premium Fund)
Impact venture
£1m
Follow-on investment into a fund for the development of an ecosystem to eliminate the poverty premium in the UK.
Northern
Impact Fund – Key Fund (Access)
Social lending
£0.3m
Development of the Northern Impact Fund, which offers blended loan/grant capital.
* Commitments in foreign currencies are stated in GBP equivalent
Our commitments for 2021 are in line with the long-term trend, although lower than 2020, which saw a number of specific Covid-19 commitments.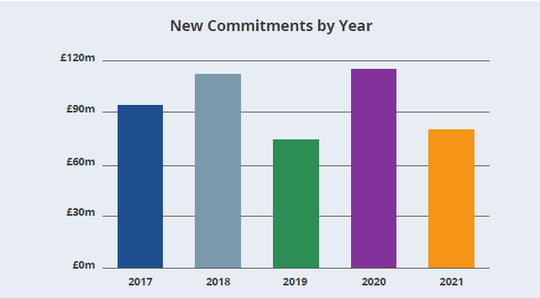 Our commitments in each market system, alongside the total committed by us with co-investors.