Profit and loss
In 2021 we reported a net profit of £16.1 million, which represents a significant uplift from the profits and losses reported in previous years, and a 2.6% return on average capital employed. Balanced against cumulative brought forward losses from previous years, this result puts us on a clear track towards operating on a sustainable basis in line with our mandate, and will enable us to achieve further social impact, by making investments to address social issues aimed at improving lives in the UK.
This year's net profit is largely due to unrealised valuation gains in some of our impact venture investments; tech-enabled start-ups whose business models have scaled significantly during the past year, and which have the potential to contribute significant impact in areas such as financial inclusion, health and the future of work.
The generation of financial returns enables our operational and market building costs to be covered, and supports delivering returns for our shareholders.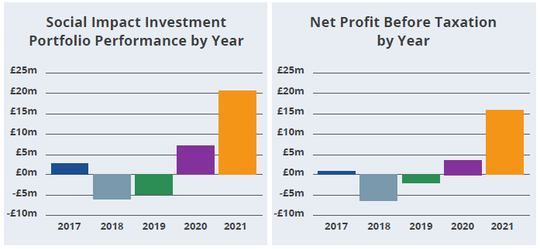 Our full audited Report and Financial Statements for the year ended 31 December 2021 are available here. Summary financial data is shown below.
Profit and loss for the year ended 31 December 2021
2021
£000
2020
£000
Social Impact Investment Portfolio*
Interest, fee and dividend income
3,736
4,511
Fair value adjustments on investments:
- Valuation changes and income relating to underlying investments
22,043
9,170
- Management fees and expenses paid to fund managers
(5,058)
(6,494)
Other valuation charges
132
(17)
20,853
7,170
Treasury Portfolio**
Interest income
2,499
2,997
Fair value adjustments on investments
962
1,682
3,411
4,679
Other income
713
115
Staff costs and other expenses***
(9,016)
(8,339)
Profit on ordinary activities before taxation
15,961
3,625
Taxation
164
62
Profit for the financial year
16,125
3,687
* Our Social Impact Investment Portfolio represents investments made to meet our objectives.
** Our Treasury Portfolio comprises funds held before they are drawn down into social investments. We deploy our Treasury Portfolio proactively, to create social impact alongside our objectives to preserve capital, maintain liquidity and generate returns on investment. The reduction in net income for the year compared to 2020 is due to a marginally lower average treasury balance and lower, but still positive, mark-to-market increases on the social bond, equity and multi-asset funds as a result of greater market volatility in the latter part of the year. In light of recent changes in the inflation and interest rate environment, a review of the composition and risk profile of the Treasury Portfolio is planned for 2022.
*** Operating costs have risen in line with expectations. The overall increase in administrative costs reflects continued investment to support the delivery of our strategy, and enables investment in our resilience and effectiveness, as the Social I Investment Portfolio continues to grow.