A message from our Chair and CEO
We will look back at 2020 for years to come. It was a strange and memorable year. Right now, it's too soon to assess the full impact of the pandemic, or to appreciate how the world may change as a result. But we can say that our response to Covid-19 was guided by the principles we apply to all our work – especially working in partnership with others.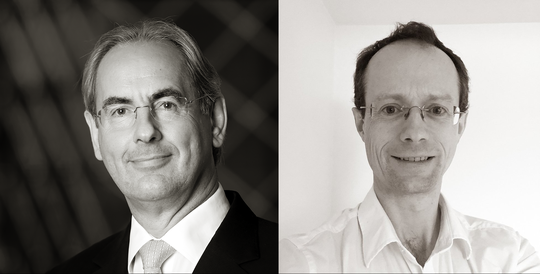 We responded in three main ways. First, we shared information across the sector, supporting rapid understanding and learning. Second, we adapted our existing investments, giving organisations cashflow flexibility where they needed it. In all, we granted flexibility to more than 500 organisations across our portfolios. And third, we delivered new investments. We created a new investment programme, working with a range of social investors and with the Department for Digital, Culture, Media & Sport, which accelerated the release of £45 million of previously committed dormant accounts.
The £25 million Resilience and Recovery Loan Fund, managed by the Social Investment Business, made Coronavirus Business Interruption Loan Scheme (CBILS) loans available to charities and social enterprises. Meanwhile, our Community Investment Enterprise Facility (CIEF), managed by Social Investment Scotland, made loans to small businesses and social enterprises in the weeks before the Bounce Back Loan Scheme was introduced.
The need was far greater than the capital we have. And so, through key partnerships, we have worked hard to play a role in offering a broad package of support to the organisations we work with.
Changing lives through our investments
Our mission is to improve people's lives in the UK. We do this by uniting capital, expertise and ideas. All over the UK, social enterprises and charities deliver positive social impact using the investment that we and other investors alongside us provide.
In 2020, including our Covid-19 response, we made 16 investments (including four follow-on investments) totalling £115 million. This brings the total number of investments we have made since we were established in 2012 to 105. In that time we, and other investors alongside us, have made available over £2.2 billion to more than 1,500 social enterprises and charities all over the UK helping them to tackle some of the toughest social challenges and improve people's lives.
Some of our new investments were in development before the pandemic but took on increased significance because of it. The Women in Safe Homes fund, managed jointly by Resonance and Patron Capital, was developed after speaking to more than 60 women's sector organisations about their housing needs. The fund provides affordable, safe and secure homes across the UK for women experiencing homelessness and who are survivors of domestic abuse. Domestic abuse offences rose during the pandemic, increasing demand on services. So, this investment will provide vital support while demonstrating the benefit of investing specifically to improve the lives of more women and girls.
Building the venture ecosystem
Elsewhere in our portfolio, we saw three new investments in venture: Ada Ventures, Bethnal Green Ventures and Eka Ventures. We believe that tech startups have the potential to create social impact at scale – but don't always have the support or encouragement to focus on improving people's lives. That's why we're helping to build a venture ecosystem that nurtures and scales innovative ways of tackling social problems, investing in venture capital fund managers that bring the right values and skills to startups.
We were also very pleased to be working in partnership with central and local government, and fund managers Bridges Fund Management, Resonance, and Social and Sustainable Capital, to build on the government's 'Everyone In' project. The project funded temporary accommodation for 30,000 people experiencing or at risk of homelessness. We have committed £30 million with over £30 million matched by pension funds, trusts and foundations to support the provision of high-quality stable accommodation.
Our financial performance
We made a net profit of £3.7 million in 2020, compared to a £2.1 million loss in 2019. This profit – in terms of the value of our investments on paper - was driven by the performance of our Social Impact Investment Portfolio, and in particular, a small number of assets in our venture and equity portfolio. Some businesses in this part of our portfolio were able to pivot their strategy during the pandemic. Many tech-based organisations offering services to support people facing tough challenges in lockdown benefited from a greater shift to life online.
Given the nature and risk profile of our portfolio, we expect to see upward and downward valuation movements each year, while in the long-term expecting a general trend towards a sustainable financial return. However, there are potential future downsides to portfolio performance as government support measures put in place to support the economy during the Covid-19 pandemic wind down. These measures have cushioned the impact for many social enterprises and charities, and this is something we'll monitor closely as the economy comes out of the pandemic.
Breaking new ground
We took a significant step into new territory in December when we partnered with Schroders to launch the listed Schroder BSC Social Impact Trust plc after a successful £75 million raise on the London Stock Exchange. This is the first tradeable product in high-impact private market social investments anywhere in the world. It's a significant development for the wider social impact investing market, opening it up to a much wider range of potential investors.
In March last year, we became a signatory to the IFC Operating Principles for Impact Management set of common standards against which the impact management systems of funds and institutions may be assessed. The Principles outline good impact management along the entire investment cycle and require us to disclose our practice annually, and have our alignment with the Principles be independently verified. We reported this in March this year, and will continue to do so.
We brought renewed focus to our work on diversity, equality and inclusion this year. While we published our first Diversity and Inclusion Plan in 2019, events around the globe, highlighted by the pandemic, encouraged us to go further. So we looked at our internal processes, how we make investments, how we manage our portfolio and our work helping to build the market and identified where we can make further improvements. This work, and our new Equality, Diversity and Inclusion Action Plan for 2021-25, developed with independent involvement and reviewed by external experts, will help us contribute to a more equitable, diverse and inclusive sector.
Being accountable in everything we do
The Oversight Trust (formerly known as Big Society Trust) is our majority shareholder and oversees our work to ensure we stay on mission. In addition, since 2012 we have also received £200 million share capital from the four largest UK banks – Barclays, HSBC, Lloyds and NatWest. In 2020 the Oversight Trust carried out an independent review of Big Society Capital (the Quadrennial Review) to examine our effectiveness delivering against our mission set out in our governing documents. This report acknowledged we had made substantial progress towards our objectives, while recognising we still have plenty to do and learn in this rapidly developing sector.

We welcomed this review, and were grateful to the independent panel and all those people who shared their views. The report highlights some of the challenges and strategic issues we face, many of which are inherent in our mandate, and that we will address as we set out our next phase of development. Following the report we committed to a schedule of actions to take throughout the second half of 2020 and into 2021 to maintain and enhance our performance.
Looking ahead
As social impact investment has grown and developed since we launched in 2012, so our strategy has evolved over time. In 2014, our first strategy aimed to strengthen the foundations of the social impact investment market. In 2017, our second strategy focused on three broad investment areas: Place, Early Action and Homes. Our experience had shown us this was where there was potential for growth by delivering impact as well as a financial return.
As the social impact investment ecosystem evolves, the role we need to play in the next phase of its development will also change.
Each part of the investment ecosystem has the potential to grow considerably in the next few years in terms of the impact it can help social enterprises and charities deliver. Our role is to understand better what each segment needs – whether it's social lending or investing in impact venture and ensure they have the tailored system support to grow. We will publish more details of our approach to deliver this later this year.
Thank you
Early in the year, Cliff Prior stepped down as Chief Executive and moved to the Global Steering Group for Impact Investment. Cliff led the team at Big Society Capital from 2016, overseeing our second strategy from 2017 and playing a vital role in the global development of our movement as a member of the UK National Advisory Board on Impact Investment. We thank him for his leadership of our organisation and his dedication to the global movement.
Stephen Muers acted as Interim CEO throughout the rest of 2020, leading our response to the pandemic. After a thorough process considering a wide range of candidates, the Big Society Capital Board announced Stephen's appointment to the role permanently in April 2021. Having been instrumental in developing our new strategy, Stephen is ideally placed to lead us into the next stage of our development.
It is an honour and privilege to lead Big Society Capital, a unique and exceptional organisation. During my five years here, and especially in the last year as interim CEO, I have learned how much difference can be made to some of the biggest issues facing UK society if investment capital is connected to the right organisations in the right way. We are at a huge moment of opportunity to grow that impact many times over and improve more people's lives. I am looking forward to working with the fantastic team here at Big Society Capital, as well as our wide range of stakeholders, to seize that opportunity and take social impact investing to a new level.
Stephen Muers, Chief Executive, Big Society Capital
We would like to thank our talented and dedicated team who have worked so hard during an unprecedented year, and our Board who have provided invaluable support and guidance. We managed to accomplish some incredible things in 2020 and that would not have been possible without their hard work, determination and a real passion for helping to create a better, fairer society. We also want to thank the fund managers, social banks and partners we work with, and the social enterprises and charities they invest in. Together, their expertise and innovation bring about social change. We will continue to support them through the pandemic and together will work hard to build a sustainable and successful future for our sector.
Finally, and most importantly, we pay tribute to the people and communities that our investments reach. They face the social challenges we aim to address, and we can only be successful if we work with them and listen to understand what works. In a year of unrivalled challenge, it has never been more critical for us to listen and work together.